Tarot can be an extremely effective way of communicating with your yourself to understand your current intentions and goals, and where you are aligned or misaligned with them. Using these new moon tarot questions you can tap into your subconscious and narrow down your intentions, and how best to utilize the energy of the new moon to manifest them. However, tarot question phrasing can be a tricky game to play. Too open or too closed, and your answers can be misinterpreted or guide you in the wrong direction.
This is the single reason most tarot readers do spreads or multiple cards to get an answer. By understanding the overall intent behind the session, you can break that intent down into an appropriate and specific set of questions to get to your overall answer.
30 Tarot Questions for the New Moon
Whether you are a tarot reader looking for questions to build your own spread, or someone eager to get started understanding their past life and wants to ask a diviner some questions, this list will help you get started in the right direction!
Where am I right now in my life?
How can I bring my goals and intentions to fruitation?
How can I connect to my power with this new moon?
How can I best surrender to the universe and trust?
What have I released since the last New Moon?
How can I ground myself?
How can I manifest my intention over the next moon cycle?
What challenges are currently plaguing me?
Where can I find support through challenges?
What creative solutions could I use for this challenge?
What resources are a available to me in this cycle?
What is influencing me?
What am I currently manifesting?
What potential do I hold that currently lies in shadow?
How can I best illuminate this potential during this lunar cycle?
How will the energy of this new moon be effecting me?
What should I clear to make room for the new?
What do I wish to grow?
What seeds need to be planted?
How can I nurture the growth of these seeds?
In what ways am I self sabataging?
How can I best work with the energy of this new moon?
Where should I direct my energy of this cycle?
What lessons does the new moon hold for me?
What is the best way to reconnect with my passions?
What can I release during this new moon?
How can I best release it?
What is the outcome of this new moon?
What is driving this outcome?
What message does my spirit guide have for me about the new moon?
Ultimately, a tarot reading can be a powerful tool for focusing on your intentions and how best to utilize the energy of the new moon to realize them. Having the right questions is key to open yourself to new insights.
Contact me today for a tarot reading custom to your situation, or if you're a reader yourself make sure you check out my tarot journal to help you on your journey!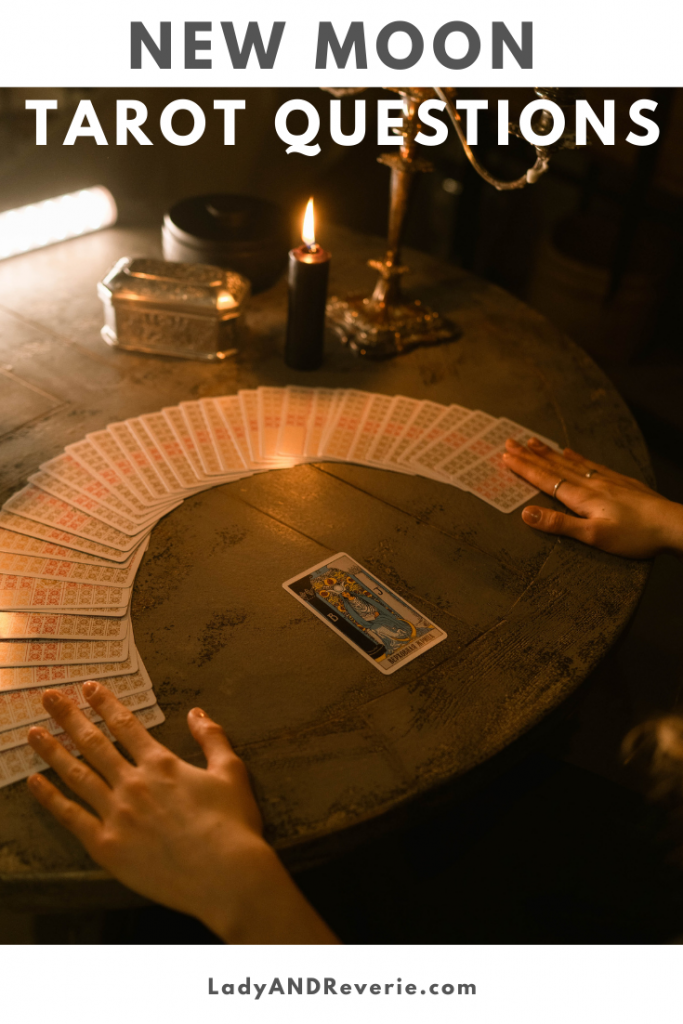 Feeling overwhelmed, stressed out, and struggling to appreciate the day-to-day? IN PURSUIT OF JOY is a printable eWorkBook providing real-life encouragement, a mindset refresh, and practical self-care activities to help you rediscover the joy of being alive! Every purchase helps keep the blog alive and supplied with free material, so thank you! ♥
This post may contain affiliate links. The information contained on this site is intended for educational purposes only and is not a substitute for advice, diagnosis, or treatment by a licensed physician. You should seek prompt medical care for any health issues and consult your doctor before using alternative medicine or making a change to your regimen.