Whether you are brand new to essential oils or have been around the block with them, there is something here for everyone. If you are new, here's the lowdown: essential oils are simply compounds extracted from plants through distillation or cold pressing to savor the flavor or scent! They tend to be controversial with some arguing their use as alternative medicine and others against it. Leaving that topic for another day, no one can argue that they smell lovely and can be used for TONS of great projects around the house, in your kitchen, or in your bathroom!
Essential oils are meant to be used through a topical application (to pressure points, usually with a carrier oil), aromatically (diffusers, etc.), and certain types can be ingested (check the brand though, most can't!). With that in mind; if you are putting together you're full moon ritual, or removing negativity from your home, don't forget to utilize some of these great recipes below!
Essential Oils 101
GETTING STARTED WITH ESSENTIAL OILS | A TINY TRIP
WHICH ESSENTIAL OIL IS RIGHT FOR ME | CRAFT BITS
HOW TO CLEAN AN ESSENTIAL OIL DIFUSSER | EVERYTHING PRETTY
USES FOR LAVENDER ESSENTIAL OIL | LONG WAIT FOR ISABELLA
YLANG YLANG ESSENTIAL OIL BENEFITS AND USES | SEVEN ROSES
BEST ESSENTIAL OIL BOOKS FOR YOUR LIBRARY | MESSAGE GEAR GURU
DIY ESSENTIAL OIL STORAGE BOX | DIY CANDY
TOP USES FOR EUCALYPTUS OIL | ANN'S ENTITLED LIFE
ESSENTIAL OIL PET SAFETY GUIDE | MOMMY KNOWS WHAT'S BEST
FRANKINSENSE ESSENTIAL OIL USES | ONE CRAZY MOM
USING ESSENTIAL OILS WHILE TRAVELING | FOLLOW ME AWAY
ESSENTIAL OIL BLENDS THAT SMELL LIKE THE BEACH | BREA GETTING FIT
HOW TO SAVE MONEY ON ESSENTIAL OILS | SAVING DOLLARS AND SENSE
SAFE ESSENTIAL OILS FOR BABIES AND TODDLERS | KINGA'S CORNER
---
Use Essential Oils for Beauty
DIY BEARD OIL RECIPE | BEAUTY CRAFTER
DIY FACE SERUM | BOOTS AND HOOVES HOMESTEAD
DIY LAVENDER FOOT SCRUB | WENDY POLISI
DIY NATURAL FACE WASH, TONER, AND MOISTURIZER RECIPES | SHELEMAH
DIY EYE CREAM | ATTA GIRL SAYS
EASY BATH BOMBS RECIPE | RED TED ART
DIY BOTANICAL BODY OIL | THE ZACH GIRLS
KHEILS MIDNIGHT RECOVERY CONCENTRATE DUPE | SEA OF BLUSH
DIY SOAPS | TALES FROM HOME
TEA TREE OIL BENEFITS FOR SKIN | DIY BEAUTY BASE
HOMEMADE LEMON SUGAR SCRUB | MAMA CHEAPS
DIY LOTION BARS FOR DRY HANDS | GLUE STICKS BLOG
---
Use Essential Oils for Health and Wellness
SORE MUSCLE MASSAGE BLEND | SNACKING IN SNEAKERS
DIY TICK REPELLENT SPRAY WITH ESSENTIAL OILS | THE MOMMA DIARIES
HEALING WITH ESSENTIAL OILS | OTTAWA MOMMY CLUB
IMMUNE SUPPORTING FOOT ROLLERS | PINK FORTITUDE
ESSENTIAL OILS FOR STRESS RELIEF | GREEN OKLA
WHERE TO APPLY ESSENTIAL OIL FOR BETTER HEALTH | SEEING DANDY
ESSENTIAL OILS FOR ANXIETY | THE INSPIRATION EDIT
ALL NATURAL OUTDOOR SPRAYS | OH MY! CREATIVE
ROLLER BALL REMEDIES FOR WINTER | THIS'N'THAT WITH OLIVIA
BOOST YOUR ENERGY WITH ESSENTIAL OILS | CREATIVE GREEN LIVING
ESSENTIAL OILS FOR SNORING | CONFESSIONS OF AN OVERWORKED MOM
SINUS REFLIEF SHOWER MELTAWAYS | WE THREE SHANES
ESSENTIAL OIL BLENDS FOR SLEEP | ABIGAIL JANE
SENSUAL MASSAGE OIL | COFFEE WITH US 3
---
Use Essential Oils for the Home
HOMEMADE CANDLES WITH ESSENTIAL OILS | MOM JUNKY
ESSENTIAL OIL DRYER BALLS | HOME WITH ANNA
EASY HERBAL CARPET REFRESHER | THE HAPPY HERBAL HOME
LAVENDER LINEN SPRAY | DAISIES AND PIE
DIY NATURAL DISINFECTANT SPRAY | COUPONS FOR YOUR FAMILY
HOW TO MAKE ESSENTIAL OIL ROOM SPRAYS | HOW WAS YOUR DAY
MASON JAR CANDLES WITH LAVENDER | SUSTAIN MY CRAFT HABIT
DIY MOLD SPRAY | THE ARTISAN LIFE
DIY REED DIFUSSER | KYNDRA HOLLEY
CLEANING RECIPES THAT SMELL GOOD | DIY WITH MY GUY
ESSENTIAL OILS FOR SPRING CLEANING | POWERED BY MOM
DIY ORANGE NATURAL WOOD FLOOR CLEANER | HONEY AND LIME
HOMEMADE FURNITURE POLISH | THE COUNTRY CHIC COTTAGE
DIY DISHWASHER TABLETS | CRAYONS AND CRAVINGS
ESSENTIAL OIL GIFT IDEAS | SIMPLE LIVING CREATIVE LEARNING
---
Use Essential Oils in Your Food
*Not all essential oils are safe for consumption, please check your label. If it states 'not for internal consumption' or similar, do not use it for the following recipes.
CHOCOLATE ORANGE ICE CREAM | KEEP CALM AND EAT ICE CREAM
BREAD DIPPING WITH ESSENTIAL OILS | SON SHINE KITCHEN
PEPPERMINT SNOW CREAM | SWEET MAKES THREE
FRUIT AND VEGETABLE WASH | KNOW YOUR PRODUCE
---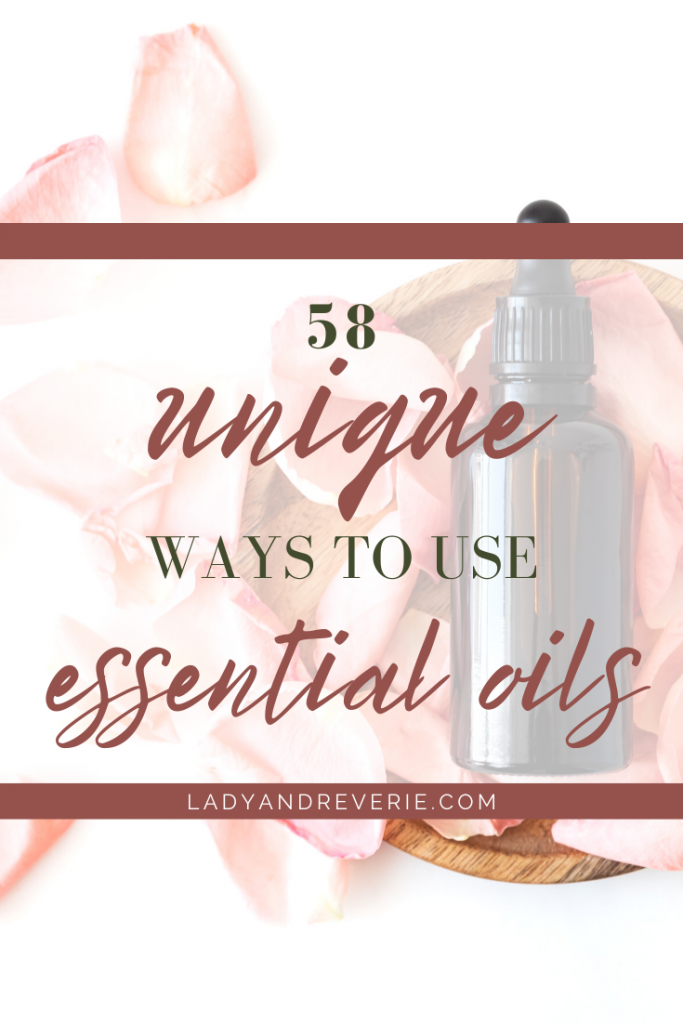 Feeling overwhelmed, stressed out, and struggling to appreciate the day-to-day? IN PURSUIT OF JOY is a printable eWorkBook providing real-life encouragement, a mindset refresh, and practical self-care activities to help you rediscover the joy of being alive! Every purchase helps keep the blog alive and supplied with free material, so thank you! ♥
This post may contain affiliate links. The information contained on this site is intended for educational purposes only and is not a substitute for advice, diagnosis, or treatment by a licensed physician. You should seek prompt medical care for any health issues and consult your doctor before using alternative medicine or making a change to your regimen.